FUEL GAS SUPPLY SYSTEM
The Marine Service Noord LNG Fuel Gas Supply System (LNG-FGSS) is custom designed to meet your specific requirements, including bunker station, LNG tank and tank connection space (TCS).
BENEFITS OF LNG
Return of investment (ROI) if the LNG bunkering price is lower than that of MGO
Existing infrastructure with more and more bunker options
Proven technology
Higher energy density than methanol and hydrogen
We design and build systems to meet your vessel's functional design requirements and any specific wishes you may have. We keep you involved at every stage of the project, from a blank piece of paper to the end product. There's no need for you to choose between various subcontractors. we have everything you need to make your project a success.
LNG FOR LOWER EMISSIONS
LNG produced from sustainable hydrogen is an endlessly renewable energy source. It is also the cleanest fossil fuel currently on the market. Vessels with a fuel gas supply system (FGSS) meet (inter)national measures and regulations to reduce emissions and contribute to a cleaner environment for future generations.
By using LNG as a marine fuel with addition of EEDI and implementation of some operational measures your vessel can meet the IMO 2030 targets.
Use of LNG as a marine fuel reduces the entire vessel's sulfur dioxide (SOx) emissions and eliminates about 80% of the nitrogen oxide (NOx). In addition, LNG has a lower carbon content than traditional marine fuels, allowing for a reduction in carbon dioxide (CO2) emissions by up to 25%. For these reasons, great (inter)national effort is expended on the promotion of LNG and LGB (liquid biogas) use in shipping.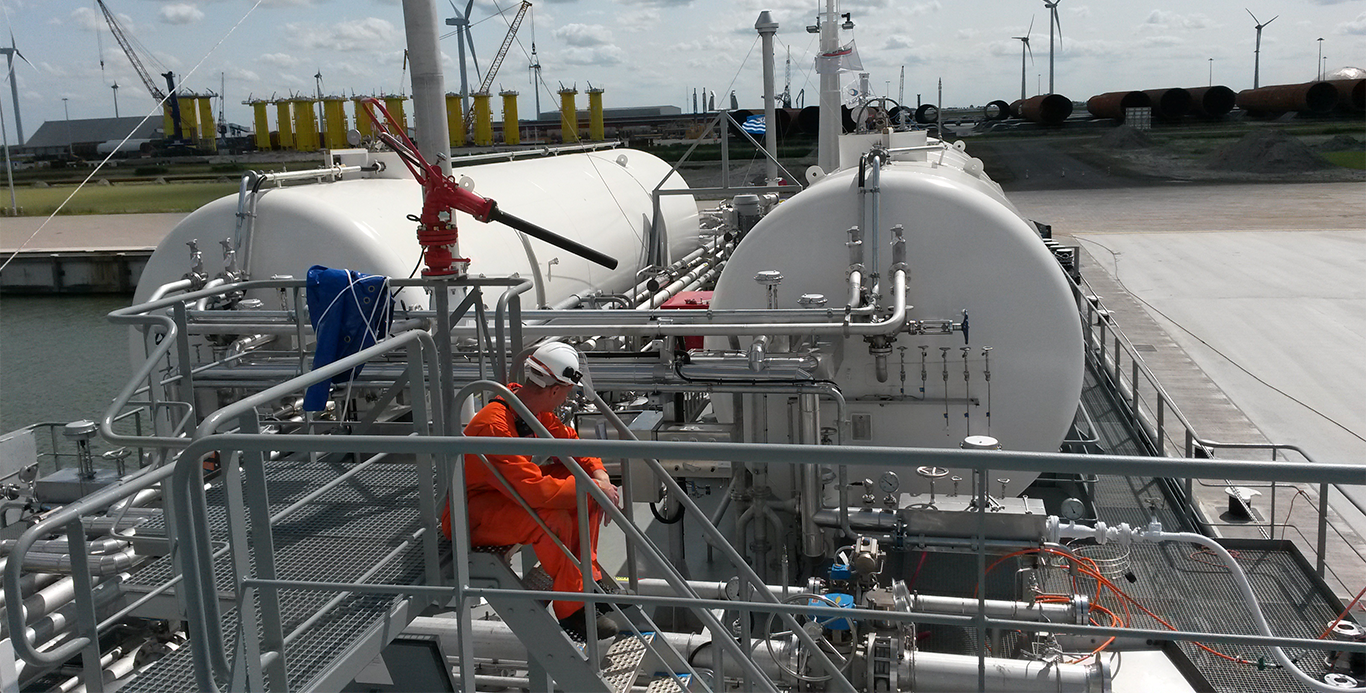 DESIGN POSSIBILITIES
Despite the detailed IGF regulations and various additional classification requirements, there is still room for us to accommodate design choices and customer desires. Our methodical design process begins with a personal meeting to define your system's functional requirements, enabling us to realize a fully custom system. This way we get the best system for your application and the lowest total cost of ownership.
We offer the option to install equipment, pipes, valves and instrumentation in a tank connection space (TCS) or on an LNG conditioning skid. We can also design and supply double walled pipes for use in gas safe machinery spaces. Our systems correspond to your wishes, IGF regulations and classification requirements.
MAIN COMPONENTS OF THE FGSS
LNG bunker skid(s)
Cryogenic type C tanks
LNG tank connection space (TCS)
LNG conditioning skid
LNG vaporizer
LNG gas heater
LNG pressure build up heat exchanger
LNG pump
Gas valve units (GVU)
Double walled pipe lines
Alarm monitoring and process control system
LEARN MOREABOUT FUEL GAS SUPPLY SYSTEMS
We´d love to help you develop a fuel gas supply system for your next new build or refit project. Please set up an exploratory meeting, or complete the contact form below to receive our brochure.
REFERENCES
Chemgas – 2620 cbm inland gas tanker
Chemgas – 3000 cbm seagoing gas tanker
Bodewes / Anthony Veder – 5800 cbm LNG bunker tanker
Doeksen – 70m, 600 pax catamaran ferries
Do you want to know more about our fuel gas supply systems?
Request our brochure