TURN-KEY SYSTEM
We design and build ballast water treatment systems in the range from 100m³/h to 2500m³/h. We do this for both new-build ships and refits. We supply a turn-key system, including electrical and possibly pneumatic or hydraulic systems. You are therefore not dependent on different subcontractors.
DESIGN REQUIREMENTS
Based on your vessels functional design requirements and sailing profile, we can provide you with objective advice when choosing an original equipment manufacturer (OEM). We take into account the latest regulations and the technical possibilities of using the system in salt, fresh and brackish water, the implementation of the system can be done with UV lamps, by means of Electrolysis or Electro-catalytic.
TOTAL COST OF OWNERSHIP
We gladly advise you on the total cost of ownership of the system. With ballast water treatment systems, this means not only taking into account the one-off installation costs that you see in the CAPEX, but also, for example, the electricity costs during use (OPEX).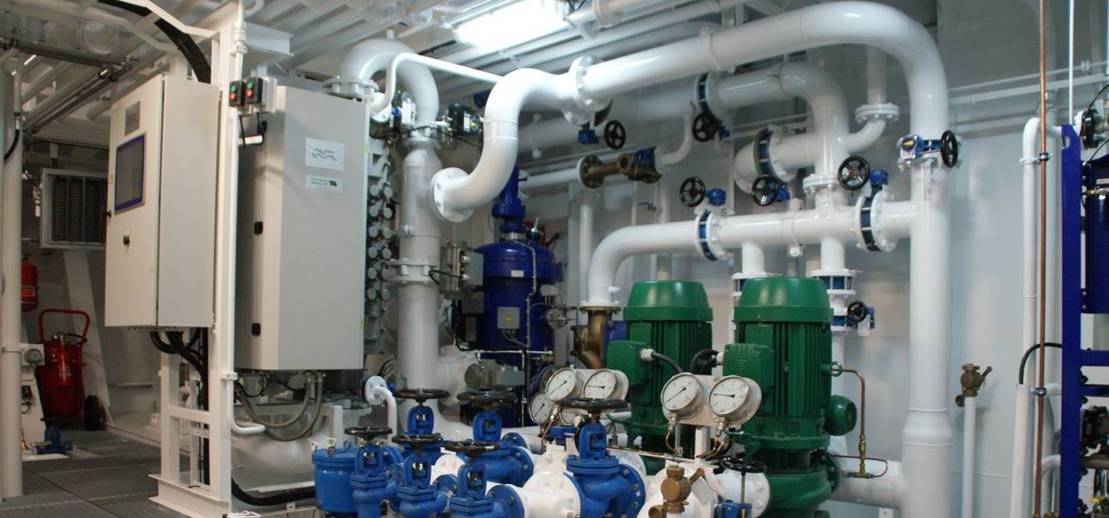 NEW BUILD – COMPACT PIPE SKID
For new build projects we can design a system built together on a skid. When designing the system, we place as many of the components as possible on a compact skid. In this way, your system takes up as little space as possible, all components are neatly arranged together, and easy to exchange and maintain. We draw the system in our 3D drawing package Cadmatic where you can virtually see what the skid will look like during review sessions. Thanks to the efficient way of assembling the skids in our workshop in Westerbroek, we can save a lot of assembly hours at the shipyard.
REFIT – MODULAR BUILT SYSTEM
For a refit project we will probably advise you to choose a modular design with separate components because of the limited space available in your engine room. During a refit, we make a 3D scan of the engine room which we can import into our 3D drawing program. During a review session you can virtually see how the system is integrated into the engine room.
INSTALLATION DURING SAILING?
We also offer the possibility to install the ballast water treatment system during the ships voyage. We did this for example, for Hanzevast Shipping. This way you will not experience extra down time.
References
Chemgas –  3000 cbm sea going gas tankers
Bodewes / Anthony Veder – 5800 cbm LNG bunker vessel
Hanzevast Shipping - 35000 ton Bulk Carrier
Questions about ballast water treatment?
Contact us