Ships with a LNG fuel gas supply system need a safe cryogenic bunker connection. We advise the use of a cryogenic breakaway coupling (CBC) in combination with a dry connect coupling (DCC) and an MSN isolation flange. A more complex solution is to use a powered emergency release coupling (PERC) in combination with a dry connect coupling (DCC) and an isolation flange.
BREAK-AWAY COUPLING
A cryogenic breakaway coupling (CBC) protects the installation in case of tension on the bunker connection. The coupling has a fixed breaking point, set to correspond to a certain tensile force. If the coupling breaks, the coupling's internal valves will close automatically on both side.

MSN ISOLATION FLANGE
Marine Service Noord manufactures isolation flanges to protect against static electricity between the ship and the bunker station, as recommended in the ABS Bunker Advisory. Though it is common practice in ground installations to use a ground wire between the ship and the bunker station, this is not always fully effective. In addition, there is always the risk that a ground wire will come loose or break accidentally.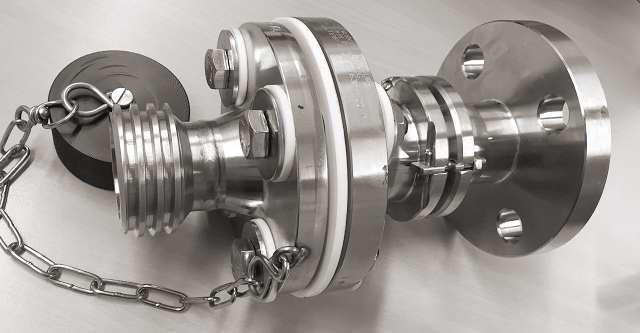 DRY CRYOGENIC COUPLING
A dry cryogenic coupling (DCC) provides a safe, fast connection between the bunker hose and the LNG bunker station, LNG bunker vessel or LNG truck. When selecting a dry cryogenic coupling, be aware that there is no unambiguous standard for these couplings as yet; there is an old ISO 18683:2015 and a newer ISO 21593:2019 standard. A coupling consists of a tank unit and a hose unit, with designs that can vary depending on the OEM supplier. There is no guarantee that couplings from different suppliers will fit together, even if these are manufactured according to the same standard.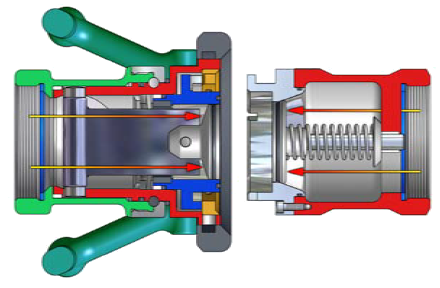 POWERED EMERGENCY RELEASE COUPLING
A more complex solution is the powered emergency release coupling (PERC), which is activated either hydraulically or pneumatically, using nitrogen. These couplings work in two ways. First, the emergency shutdown (ESD) system will release the coupling automatically in emergency situations, shutting off the gas supply. Secondly, the coupling acts as a dry break coupling; tension on the bunker hose breaks the coupling automatically, again shutting off the gas supply.
ESD SYSTEM
The PERCs are triggered by means of the ESD system. This can involve pressing an ESD emergency button, fire or gas detection or pulling on a cable between the bunkering station and the ship to be bunkered. It is common for such systems to activate in three stages. First is the trip protection. Second, the ESD 1 signal is activated and lastly, the EDS 2 signal. The interval between ESD activation and PERC disconnection is 2 seconds; this is stipulated in the class rules. If you want to watch a video from Mann-Tek demonstrating this system, go to Youtube - FAT PERC System
SAFETY INTEGRITY LEVEL
The new Safety Integrity Level (SIL) standard seems to be the accepted reliability standard for bunkering systems on board LNG bunker tankers. This standard was created by Shell to be able to assess process reliability and safety for electrical, electronic and programmable electronic systems. Levels range from SIL1 to SIL4. SIL2 is generally assumed to be the maximum practicable level for STS bunkering systems, making it the de facto STS bunkering standard. For more information about SIL, please see: Wikipedia - Safety Integrity Level
Questions about cryogenic bunker connections?
Contact us