METHANOL AS MARINE FUEL
We at MSN believe LNG, LPG, methanol, biofuel and hydrogen to be the most promising solutions for future marine fuels. For this reason we invest in research and development of methanol fuel systems.
BENEFITS
Methanol is easy to handle and store
The methanol fuel system has a lower CAPEX than a LNG fuel system
The energy density of methanol is lower than marine gas oil but higher than hydrogen
Methanol is biodegradable
As a systems integrator we provide engineering, procurement, construction and installation (EPCI) services. We design and build systems to meet your vessel's functional design requirements and any specific wishes you may have. By following a risk based design process there is no need to wait for the low flashpoint fuels regulations to be fully developed and in place.
We keep you involved at every stage of the project, from a blank piece of paper to the end product. There's no need for you to choose between various subcontractors, we have everything you need to make your project a success
LOWER EMISSIONS
By using methanol as marine fuel you can reduce emissions of nitrogen oxides (NOx) up to 60%, sulphur oxides (SOx) up to 99%, particle matter (PM) by 95% and carbon dioxide CO2 up to 15% tank to propeller (TTP). If you use green methanol your emissions will be CO2 neutral.
CASE STUDY MV EEMSBORG
As a member of the Green Maritime Methanol consortium we contributed in the case study to convert the Wagenborg general cargo vessel MV Eemsborg to using methanol as fuel. The MV Eemsborg is a E-Series 11,300 DWT general cargo vessel which has a Wartsila 9L32C main engine with a power output of 4,500 kW.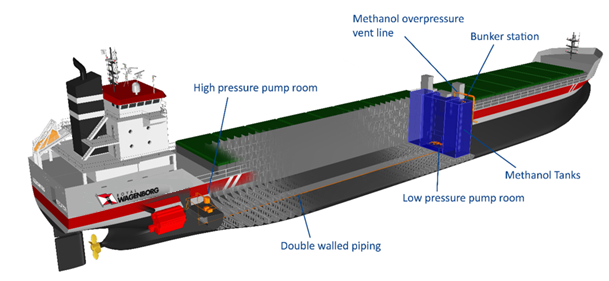 Methanol bunker tanks will be located in the cofferdam in the cross bunker section where also the methanol bunker station will be located. After passing through the cofferdam, the bunker line connects to a manifold in the low pressure pump room, which is located below the bunker tanks.
From the low‐pressure pump room double walled piping is routed through the pipe duct towards the high pressure pump room located next to the engine room. The HP pump room contains a buffer tank and high pressure pumps. The high pressure pumps compress the methanol to a pressure of 450 bar before it is fed to the engine. A methanol retour line is fed back to the buffer tank. The use of a buffer tank also enables the addition of water to the methanol fuel to be able to comply with Tier III regulations without the use of an SCR unit.
Nitrogen will be used for inerting of methanol tanks and the space in between the inner and outer pipe of double walled piping. A small nitrogen generator is used for the supply of nitrogen.
The full research paper can be found on the Green Maritime Methanol website.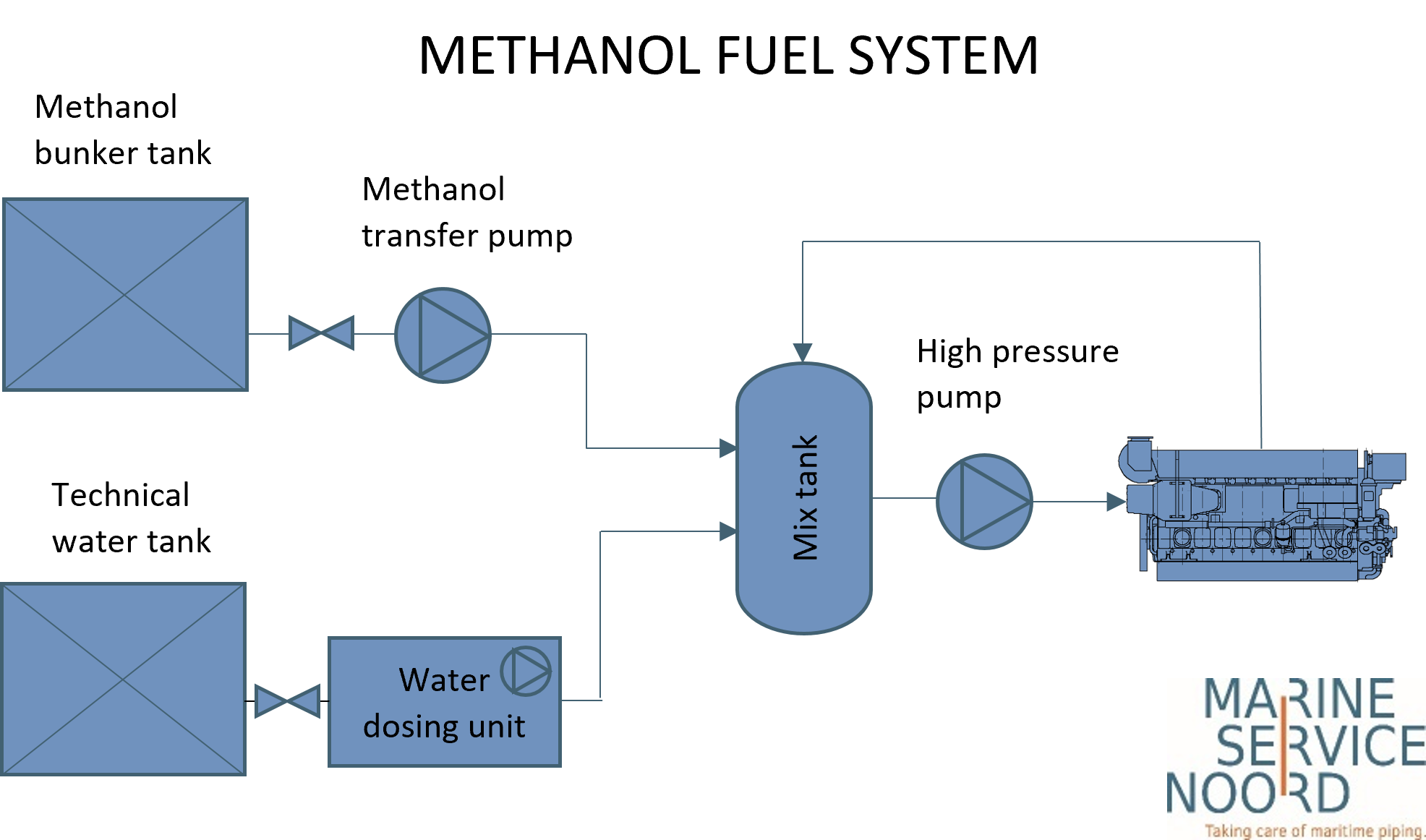 MAIN COMPONENTS
Bunker station
Bunker tank(s)
Low pressure transfer pump(s)
Water dosing unit
Mix tank
High pressure feed pump(s)
Nitrogen blanketing system
LEARN MORE ABOUT METHANOL FUEL SYSTEMS
We´d love to help you develop a methanol fuel system for your next new build or refit project. Feel free to contact us to set up an exploratory meeting, or complete the contact form below to send us your questions or comments.
Questions about methanol as marine fuel?
Contact us